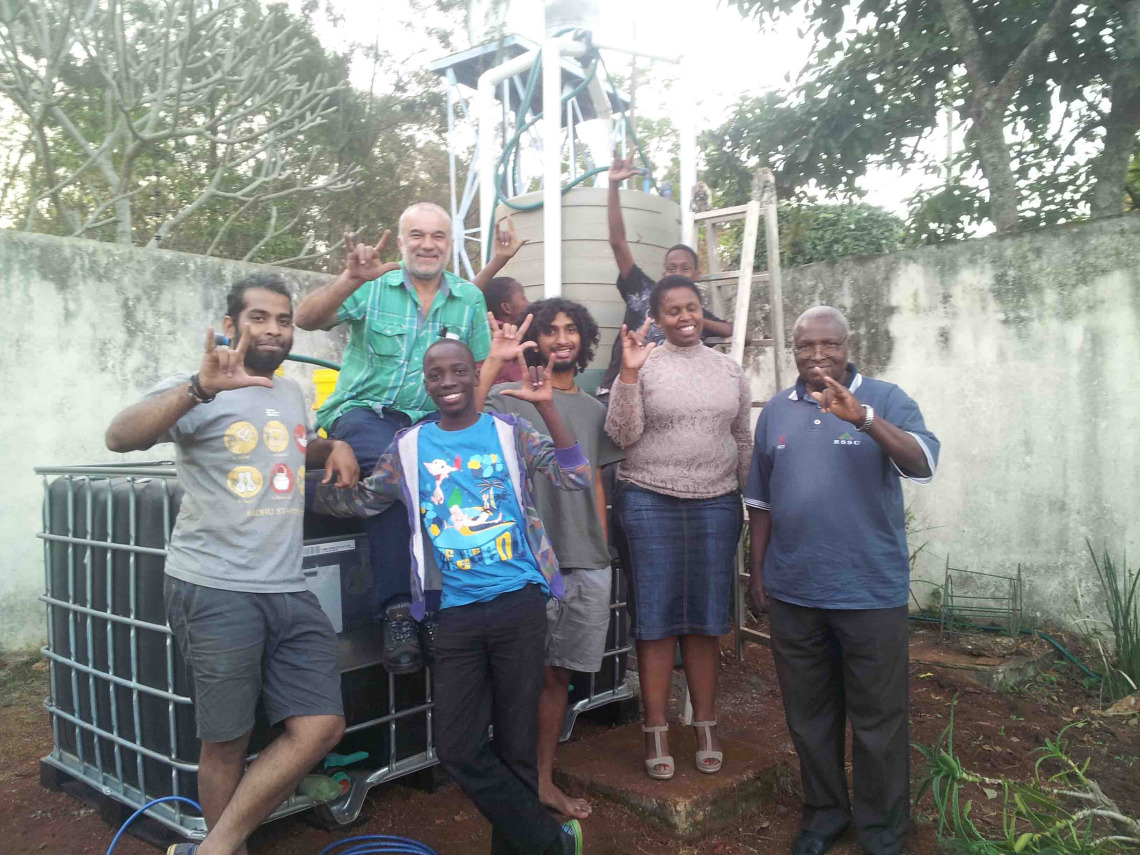 August 19 2014 saw Dr. T.H. Culhane and Google Science Fair Finalist Rohit Fenn (an Indian youth who designed a more efficient toilet) and his older brother, evolutionary biologist Amit Fenn, travelling to Swaziland to work with Science in Action winners Sakhiwe Shongwe and Bonkhe Mahlalela, adding the 'food waste to fuel and fertilizer' biogas  solution to their toolkit for improved low cost hydroponics in Swaziland.  They stayed at the Sundowners Lodge near Manzini, where Peace Corps and other project teams spend their evenings, and where a crossflow of Swazi and international visitors convene to share ideas for making the world a better place.  During the week everyone learned to build a biodigester and saw how they can not only give energy security but help provide food security too!
When the Solar CITIES team was done buildng a Solar CITIES IBC/ARTI hybrid system for the lodge, they built another and transported it to the farm of Sakhiwe's grandfather, Simon.
Now Swaziland has two biodigesters operating, providing cooking fuel and growing crops.  The start of a revolution?
http://blogs.scientificamerican.com/budding-scientist/2012/06/06/teens-engineer-a-way-to-help-farmers-in-swaziland/
(268)76863277 and (268)78315458 (best)
[[{"fid":"639","view_mode":"content_medium","fields":{"field_file_image_alt_text[und][0][value]":"Sakhiwe and Bonkhe show the yields they get with their hydroponics. Biogas fertilizer should increase the yields even further!","field_file_image_title_text[und][0][value]":"Sakhiwe and Bonkhe show the yields they get with their hydroponics. Biogas fertilizer should increase the yields even further!"},"type":"media","link_text":null,"attributes":{"title":"google-science-fair-2012-gagnants-sakhiwe-shongwe-bonkhe-mahlalela-swaziland-3.jpg","style":"line-height: 1.538em; text-decoration: underline;","class":"colorbox media-element file-content-medium"}}]]