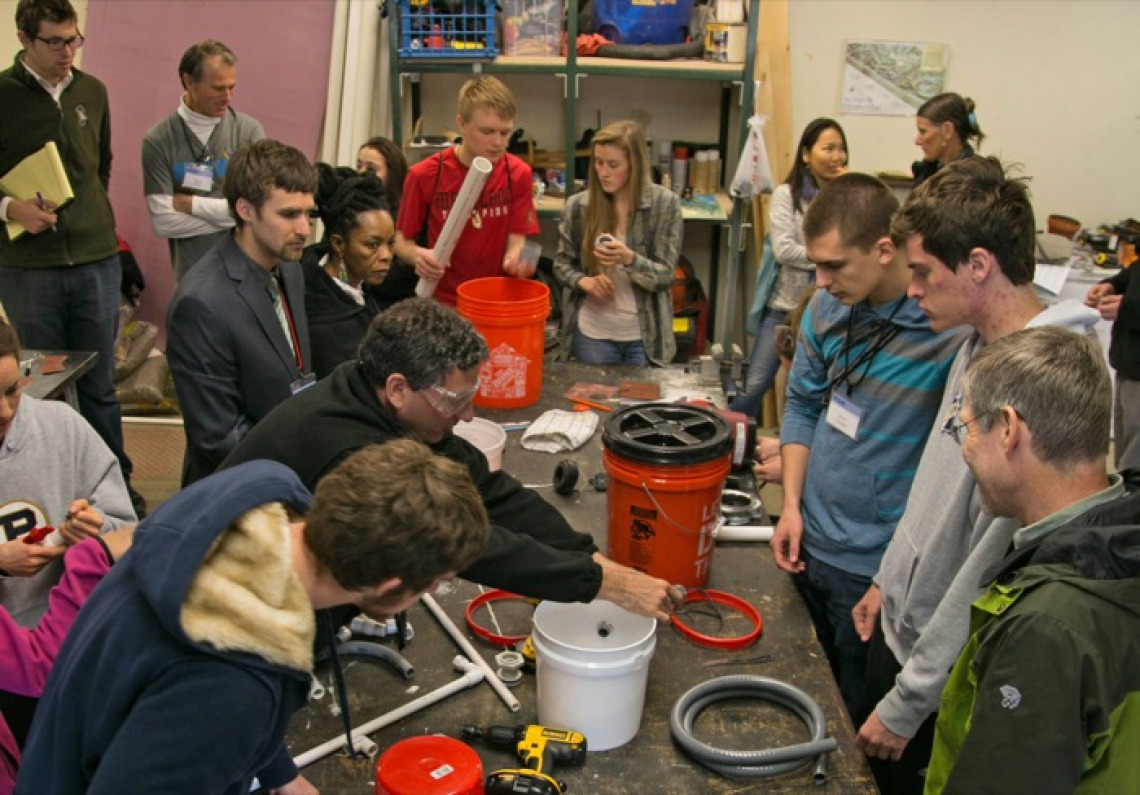 In March of 2014, Solar CITIES' Culhane flew into St. Louis on a night flight from Rio where he was working on his Brazil biogas project with Solar CITIES Solutions, to deliver the keynote address at the Euphrates Institute conference on sustainability and to receive their prestigious "Visionary of the Year" Award. During the keynote he demonstrated the utility and safety of biogas by having a woman from the audience lie down on an air mattress filled with methane which he then used to light LED lamps using a "PowerPot" thermoelectric generator.
Culhane's speech celebrated the gifts that God has bestowed upon us through the provision of the Archaea, his first and smallest and yet most enduring creation, the creatures that make biogas and soil fertility and the transformation of waste possible. He showed his new song, created for his renewable energy and environmental tour of Iraq (building biodigesters not far from the Euphrates River) the previous spring, a song called "Consider it Done" which takes the message from Jesus' Sermon on the Mount (Matthew 6:26-6:28 and Luke 12:27) "Consider the lilies" and relates it to the simple DIY renewable energy and waste and water management technologies we have today. 
Culhane received a standing ovation, a testimony to the shared spirit of love and postitivity co-created between Culhane, the Audience and... the Creator!
During the weekend Culhane led a hands-on-workshop in which Principia students built a paint bucket sized working biodigester (Solar CITIES likes to do more than just talk -- whenever possible, when invited to give a presentation, Culhane tries to schedule in time to do a real biogas system construction training workshop).
See http://www.principiawire.com/2014/04/pac-spotlights-practical-steps-toward-sustainability/
http://euphratesinstitute.org/events/visionary-of-the-year-t-h-culhane-keynotes-principia-college-public-affairs-conference/
http://euphratesinstitute.org/euphrates-visionary-of-the-year/