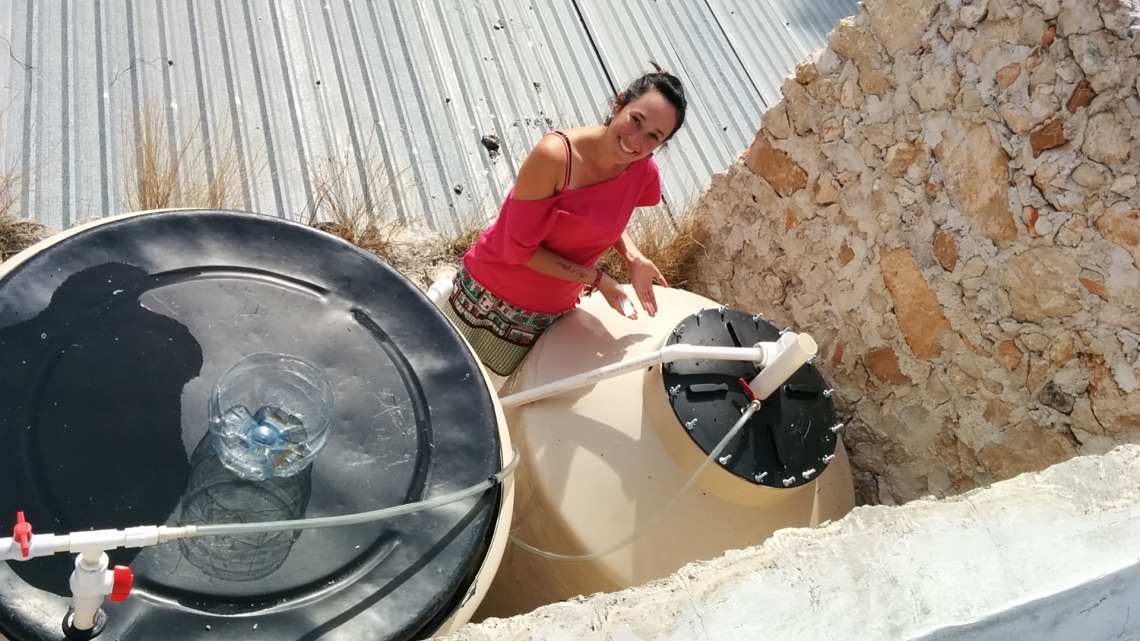 By nightfall on Monday, December 29th, 2014, just as the downpour of rain started, we miraculously finished building and commissioning the Yucatan's first urban biogas digester, using our Solar CITIES mod to the ARTI design. On the 31st we modified  another rotoplas tank as a closed digester to take more urban food waste and increase capacity. The second tank was made without cutting or penetrating the water tank itself, doing all the work through the screw lid which was sealed with silicone and bolts and wingnuts.  This novel idea will enable members of the Maya community who already use such tanks to irrigate their horticultural plantings to get both gas and liquid fertilizer from the same tank with only marginal extra cost (a couple of tubes, uniseals, nuts and bolts and valves).
Yay team, you were great, particularly carrying all those buckets of water and manure up the stairs to fill the this and liter tank. If only we had Micky Mouse and his fantasia broomsticks!
You gave us at Solar CITIES a truly happy way to ring out the old and ring in the new! Happy New Year!
(Note: A "Bodega" is a small grocery store in an Urban Area, usually in a hispanic neighborhood.  Bodegas exist all over Latin America.  "Bode-gas" is our name for an urban biogas system in Latin America that takes what the grocery store produces, whether consumed by people or thrown away, and turns it into fuel for cooking the grocery store products and fertilizing a new generation of groceries, preferaby grown hydroponically and aeroponically on the roof or in the back yard of a bodega, therebye completing the cycle!).
Hello Thomas,
Sir this is truly inspiring work that you are doing in Mexico.
Sir would it be possible to obtain plans in order to intent constructing one for a project i'm trying to initiate in Tulum, Quintana Roo?
I thank you in advance and bid you a pleasant evening as well.
Respectfully submitted,
Antonio Found Matamoros
.