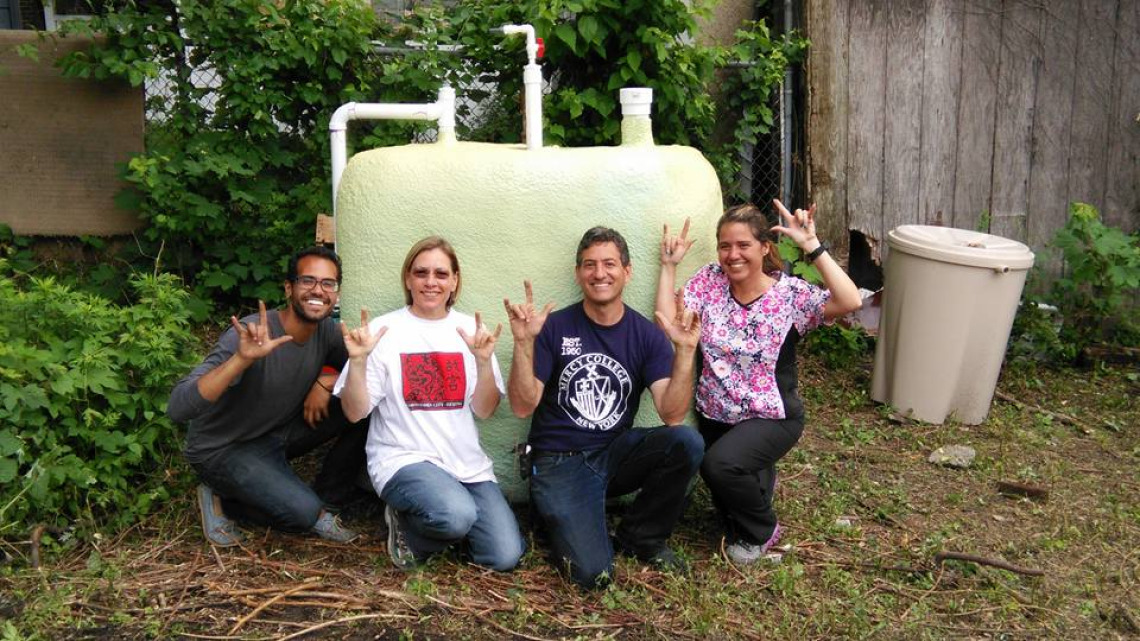 Our Mercy College trips to the Science Barge over the last two years have built an enduring relationship that led to Solar CITIES donating our signature liquid composting biogas system, field tested at Mercy, to our neighbors at the Groundwork Hudson Ecohome garden. #EnvisajThat!
This is the third tank we installed today, comprising the first three using 3 inch closed cell soy based polyurethane foam donated by Lee Stoltzfus from Foam-Tech Inc.  Lee volunteered his time and labor and materials to work with us to investigate the advantages of foam insulating IBC tank biodigesters for improved cold climate performance.
Want to visit? The community garden is located at 56 Buena Vista in Yonkers at these coordinates: 40°56'00.4"N 73°54'09.4"W.  It is walking distance from the Yonker's Train Station and Science Barge.  Click on the map above to see where it is.
Hey Solar Cities! Just wanted to say a huge THANK YOU again for donating the composting biogas system! We think our Urban Homestead site and future home of the EcoHouse will be THE perfect place for it and we're looking forward to all the great nutrient tea we make, and we're looking into using it for a burner in the EcoHouse as well. This is a tremendous boon for our educational programming on sustainability. You guys are awesome and we are quite grateful to have you as allies and supporters!