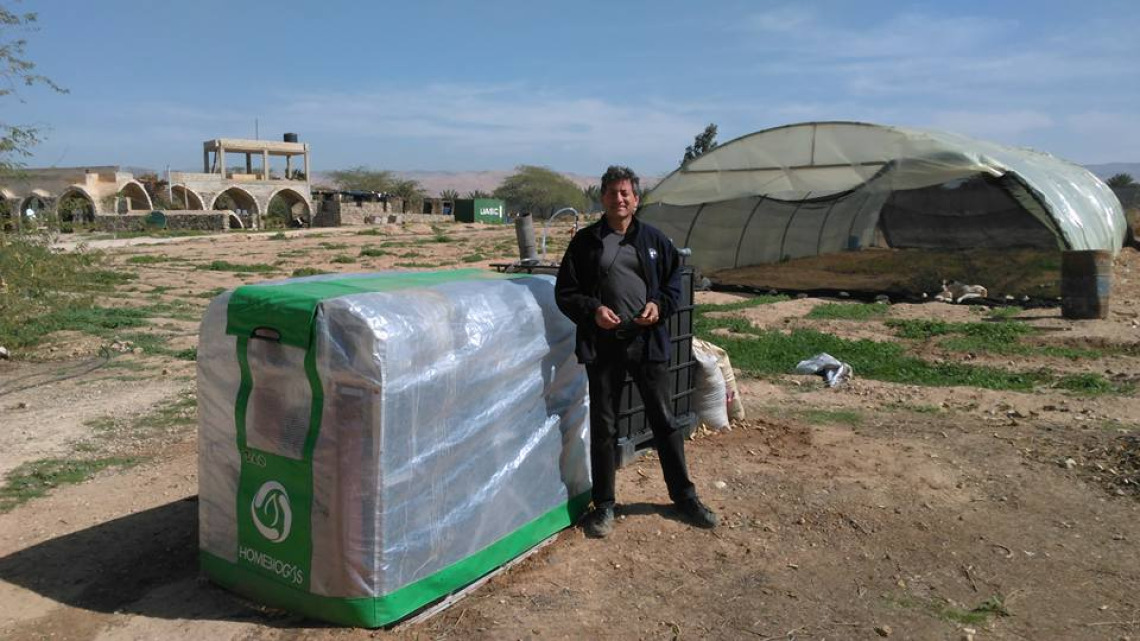 Update on Jordan Project
In January of 2017, after extensive team and relationship building in preparation for the initiative, Solar CITIES president T.H. Culhane and graduate student Enas AbdelRahman left the Arava Institute of the Environment, where they were working on a biogas refrigeration project, by bus, traveling overland to Jericho to make the King Hussein/Allenby Bridge crossing from Israel to Jordan.  They made the trip using Culhane's personal money.
They were met at the Ecome Peace Village entrance by Yair Teller and two other members of the HomeBiogas team who delivered two HomeBiogas systems in boxes for delivery to two pilot sites that Solar CITIES had selected with Jordanian colleagues as being the best places to begin sharing the technology.  HomeBiogas donated one of the digesters (for the site closest to Israel) which retails for $1,195 and offered to provide a second one at the price of $600 with Culhane agreeing to pay the balance through in-kind exchanges.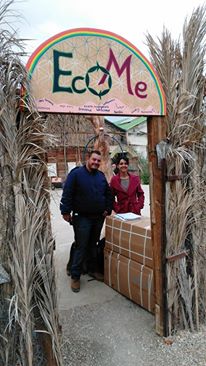 The first site was the "Valley of Peace/Children of the Valley" Permaculture Training farm of Mohammed Atiyeh, an elder gentlemen well connected with both Jordanian development ministers and the Arava and European and American NGOs whose site is in partnership with the UN WFP (World Food Program).  The site is an active date farm surrounded by refugee camps and bedouin families with livestock less than a half hour from the dead sea in the town of Shouna Janoubiya near where John the Baptist baptised Jesus.
The farm has a regular contingent of European volunteers who come to work on permaculture and peace issues.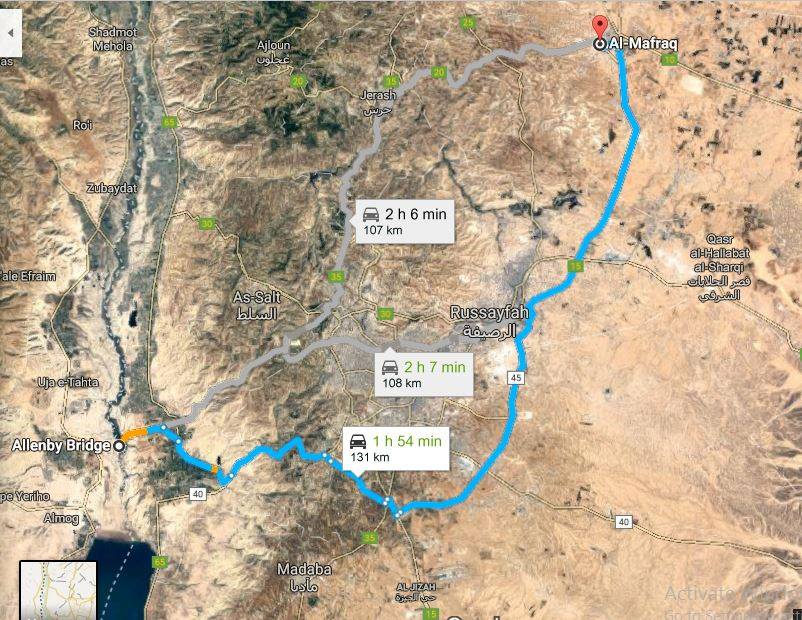 (Map shows the two locations of our initiative intervention so far: Mohammed Atiyeh's Children of the Valley/Valley of Peace farm next to the Allenby Bridge and the Hashemite Fund Bedouin Development farm in Al-Mafraq next to Zaatari refugee camp).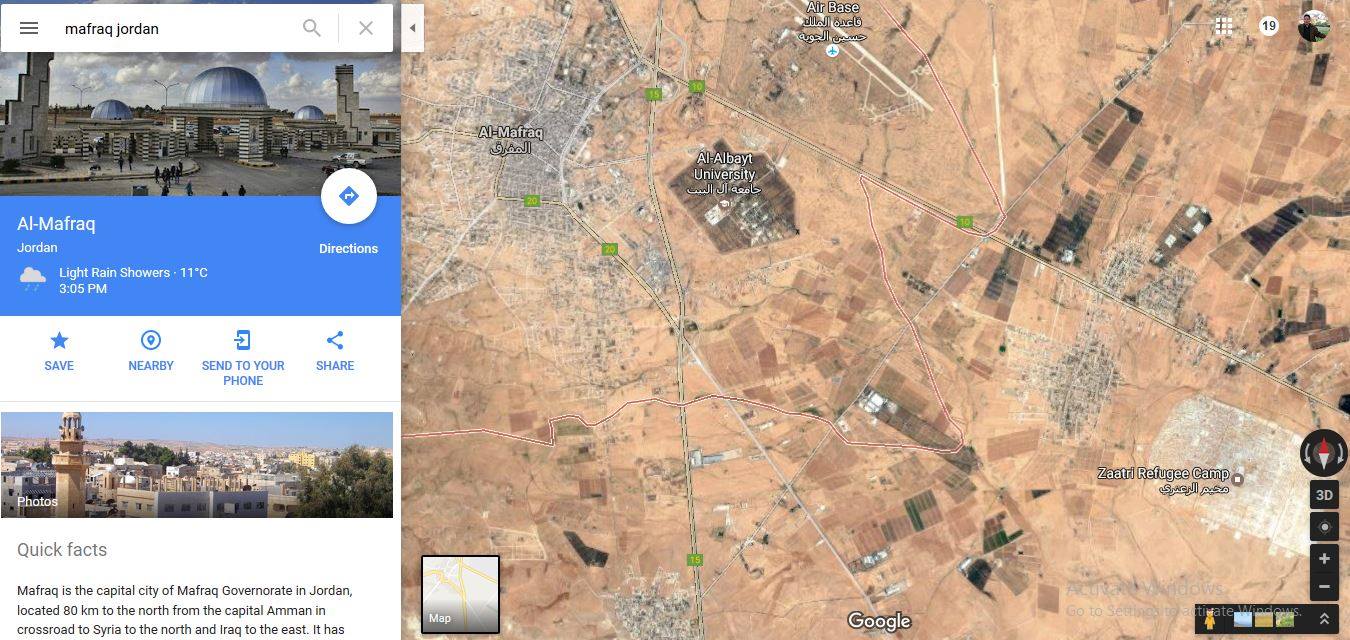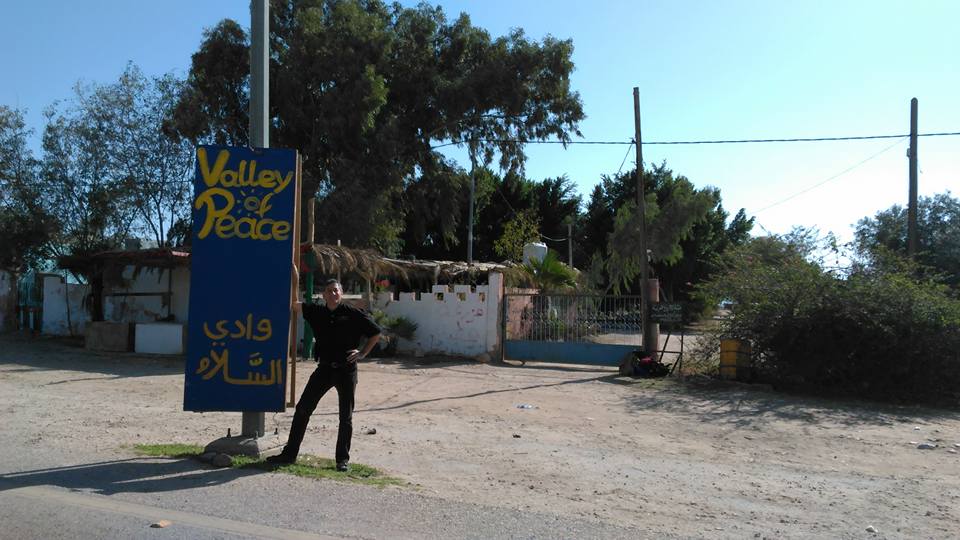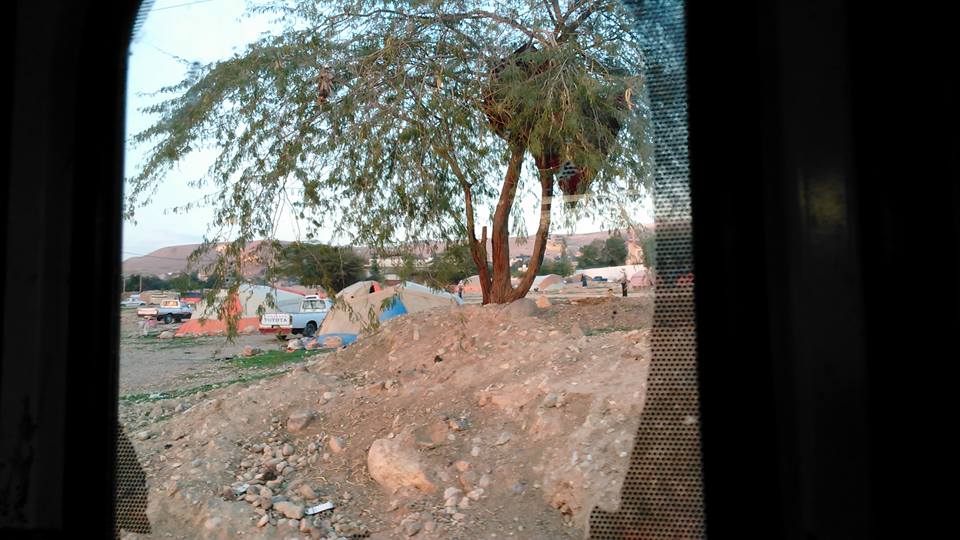 Our connection to Mohammed Atiyeh and his project began in the summer of 2016 when Enas and I hosted him when he was visiting the Arava Institute to develop an official partnership with their administration as a research site for Arava students and projects.  We demonstrated both the HomeBiogas system, the salchicha biogas system that I had built with Yair Teller and students in 2011 and my own Solar CITIES handmade systems at the Arava, and he was convinced that he would like to be a gateway for helping share these technologies with Jordan in general and refugee and impoverished people in general.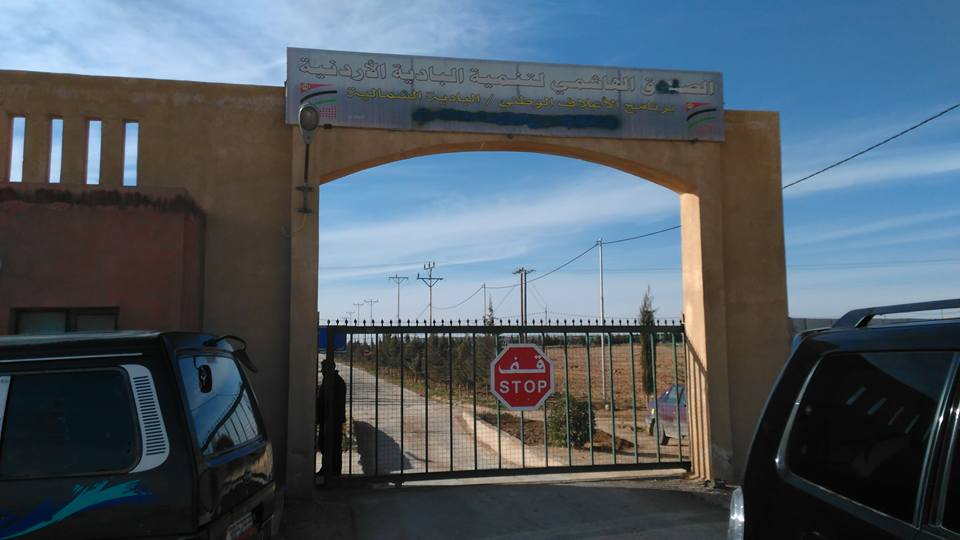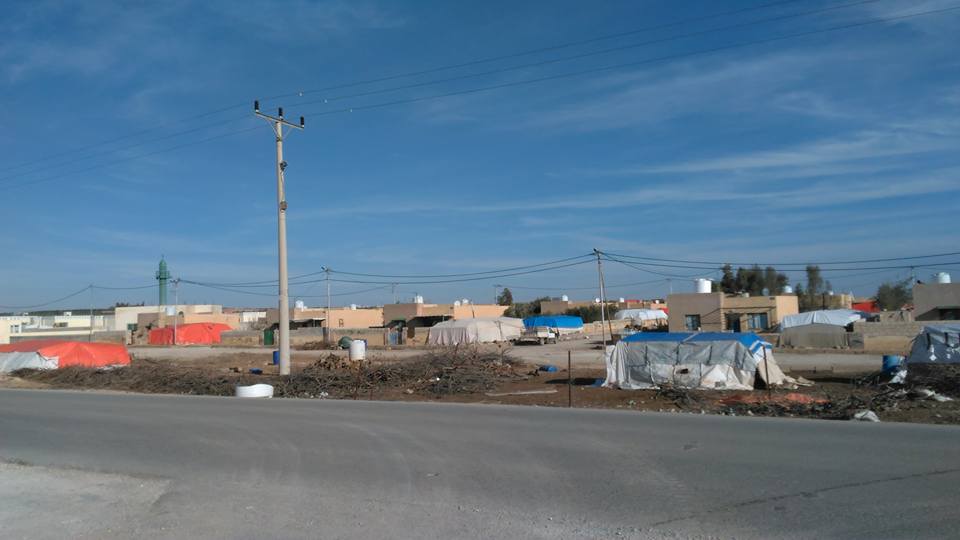 The second site was the experimental research and development farm run by the Hashemite Fund for the Development of the Badiya run by Dr. Raed Al-Tabini, who works with Samer Asfour. This farm is in Al-Mafraq, about a half an hour from the Zaatari refugee camp that is the ultimate target of our initiative.  The Hashemite Fund farm has been working with the Zaatari camp for several years now and provides our best and most realistic way to disseminate the technologies and ideas to the people responsible for and involved with and living in the camp as well as to the many makeshift camps surrounding Zaatari, some of which are directly across from the Hashemite Fund Farm.
Our relationship with the Hashemite farm is robust because our connection comes through one of Culhane's graduate students, Angela Farkhan Al-Fayez, who is from the well known and politically connected Al-Fayez Bedouin clan and is in our Master's Program at the Patel College for Global Sustainability at USF Tampa.  Angela has worked for several years in both Al-Mafraq and Amman with the Hashemite Fund, and directly in the Zaatari camp. 
Because security clearance is difficult to obtain, and getting in and out of the camp is logistically difficult, and because of the sensitive political nature of refugee camp work, Angela, thinking through this during our first semester of intensive sustainable development discussions, advised  that we initially set up two demonstration sites in Jordan -- one with easy access to foreigners and with a tie to international institutions (the Children of the Valley Permaculture Training Farm) and one directly involved with and near the refugee camp where we can train and work with local leaders and communities that will be far more effective in long-term relationship building, trainer-of-trainers extension work, troubleshooting, maintenance, and reporting.
For these reasons Culhane and Abdel-Rahman journeyed to both locations in January and assembled both homebiogas commercial systems (one in each location) and a handmade Solar CITIES system built of local materials (one at the Children of the Valley farm adjacent to and connected to the HomeBiogas system for easy comparison).
The workshops went over theory, practice, and assembly and commissioning.
A group of 6 Europeans interns/volunteers and 10 Jordanians were trained in January of 2017 at the Children of Peace farm, including two local villagers who would like to replicate at their own homes, and a family of three welders (father, son and uncle) who assisted us in creatively manufacturing parts for the hand made Solar CITIES system in their workshop in Shouna and then came to the farm to see the results and discuss further involvement.  Additionally, a displaced family running the local plumbing shop became interested in the project as we purchased supplies from them and sought their advice (as we always do) when discussing what we were purchasing the parts for.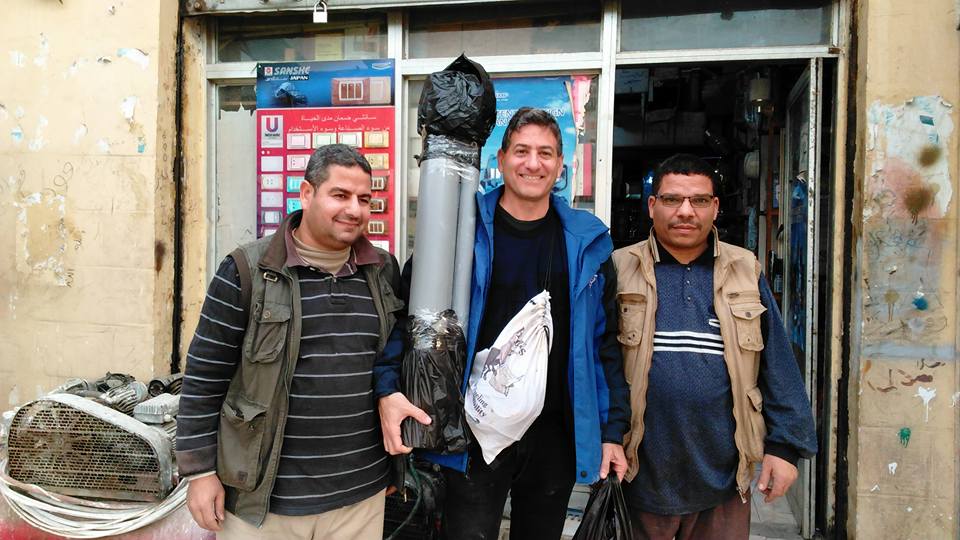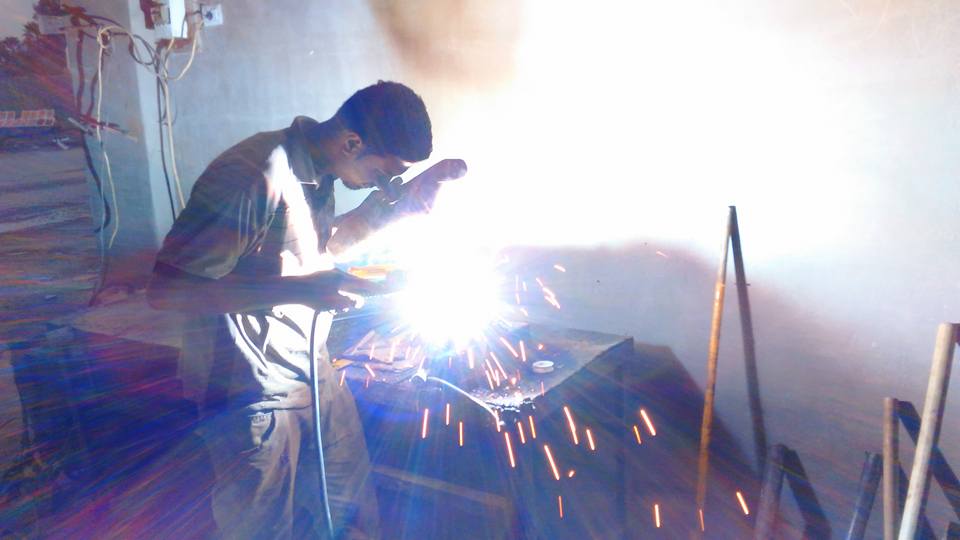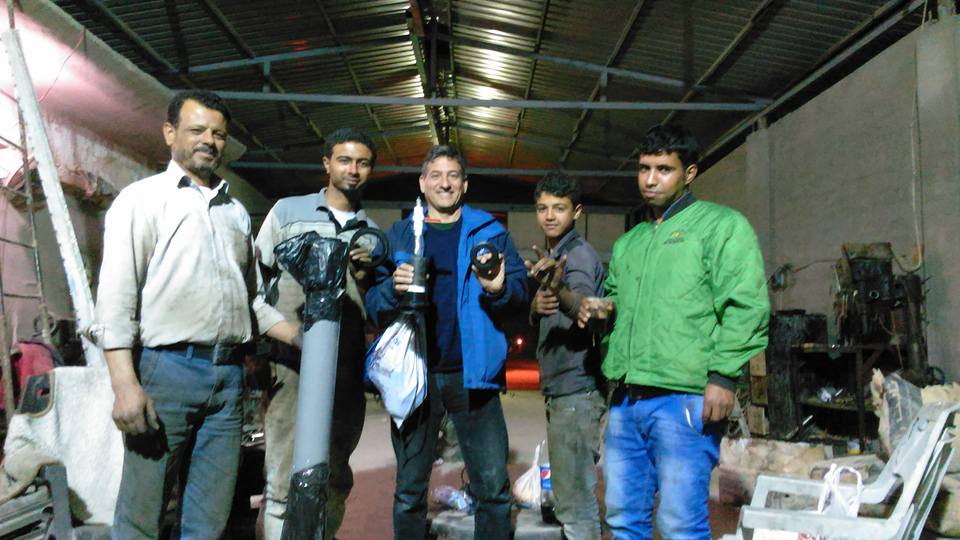 A group of 10 Bedouins were trained at the Hashemite Fund farm in Al-Mafraq, all of whom work with Dr. Al Tabini and many of whom have worked with the Zaatari camp and other refugee groups.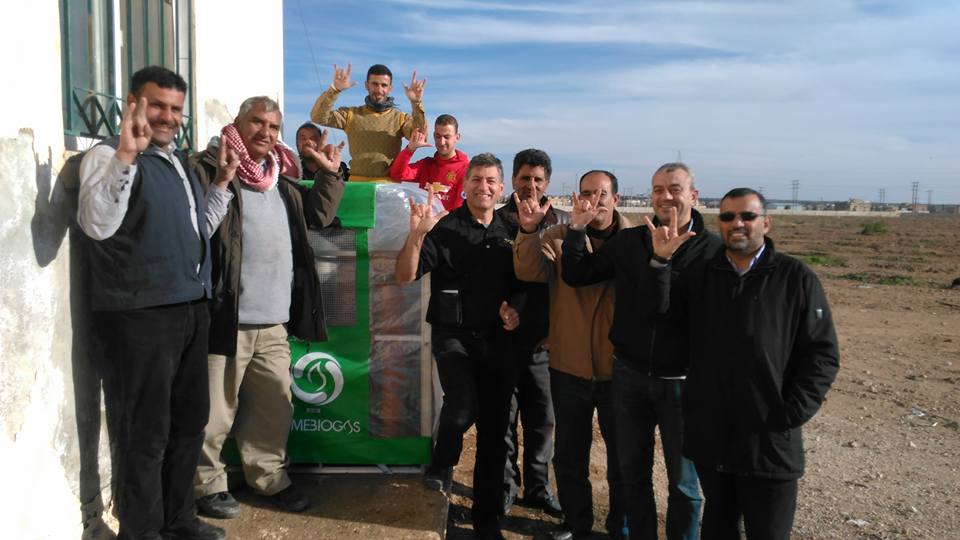 Culhane made a follow up visit to the Children of the Valley farm from February 19 to 21 to check on the digesters there (fixing an acidity problem), train new stakeholders (including 3 new Europeans and 4 new Jordanians) and give a keynote speech at MERC/USAID small biogas collaboration project conference at the Jordan Crowne Plaza with Mohammed Atiyeh, scientists and professors from the Arava Institute and Jordanian and Palestinian universities, staff of the Shimon Peres Center for Peace, staff and leaders of HomeBiogas and government officials from Israel, Jordan and Palestine.  Culhane's flight ticket and transportation in February  were paid for by the Arava Institute.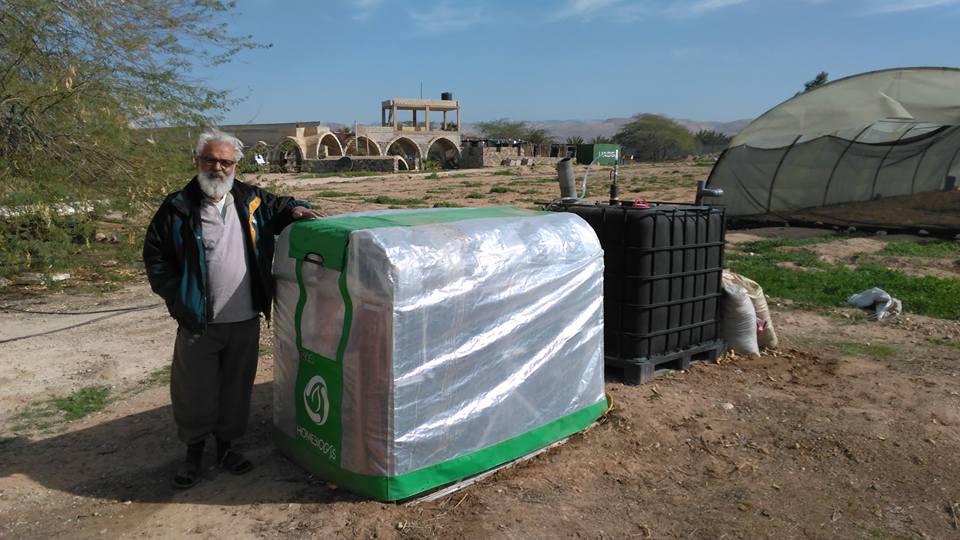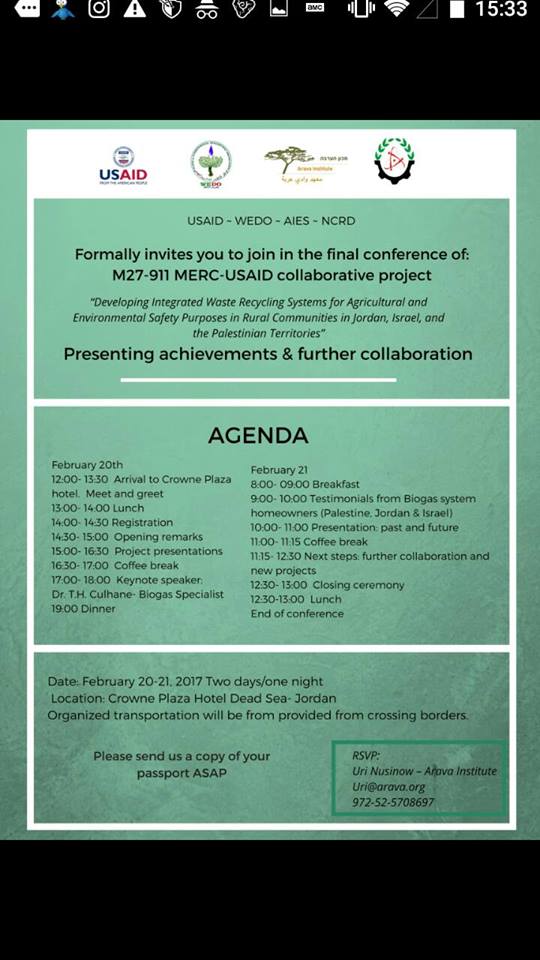 Culhane had worked extensively to set up a third trip to continue the work from March 24 to April 2nd with Mercy College students as an official class, and had secured funding for the project (Mercy would pay Culhane for running the class which would cover his expenses) but the class was cancelled in late February due to a travel warning for US citizens in Jordan  in the wake of Trump's travel bans for Muslims that scared the college and caused them to relinquish their approval.
Culhane has plans to visit the region again from May 14th to 17 at his own expense to give biogas development workshops to visitors to the Arava who are in the MASHAV program and whose mission is to learn about home scale biogas and return to their home countries to implement it.  Many Jordanian students study at the Arava and this gives Solar CITIES the ability to expand the program.
Until we can secure direct funding for the initiative, our best chance is to work through opportunities with partners we have made  in the region who can help us extend the work as part of their own.
What we learned:
First, it is VERY IMPORTANT to have a native speaker with good diplomatic skills and expertise in household biogas with us at all times.  Having Enas, who was trained at the Arava and is Palestinian with a Jordanian dual passport, and who is willing and is able to talk at every level, with government officials and villagers, men women and children, was critical. Having Angela Farkhan Al Fayez as a contact point with vast connections and experience and who commands respect, made things go much more smoothly than they would have otherwise.  I recommend we always work with women who have the expertise and connections and speak not just the language but are fluent in the cultural elements as these are the hardest things about our project. In this way we also get greater stakeholder involvement and foster women's  empowerment as called for by  UN Sustainable Development Goal #5 "Gender Equality".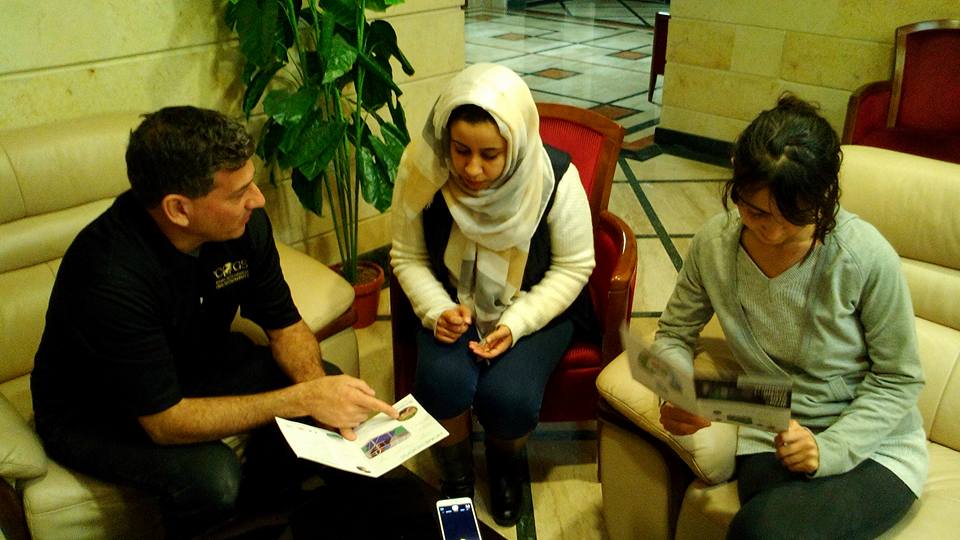 Crossing the Allenby bridge would technically  be the best point of entry because Mohammed Atiyeh's farm is walking distance from the border crossing and there are buses to Amman and up to Al Mafraq from there. But for Americans to cross the bridge, as we did in January, to get to Jordan from Israel, and especially to cross back into Israel,  is not advisable at all.   It is also  very expensive. The Israeli's cause long delays because this is the only crossing point for Palestinians so security is very tight.  We won't do that again.  On the Israeli side it costs over 160 Shekels to exit Israel, and in Jordan they detained Dr. Culhane for an hour for not having a Visa from the Jordanian embassy (one can easily buy one at every other entry point to Jordan)  and the Jordanian officials were going to deny him  entry and  send him  back and make him  go to Ramallah to get a visa if he wanted to come in. Fortunately Mohammed Atiyeh came and talked to them and they agreed to make an exception because of our mission, and charged Culhane 40 JD (about 60 dollars) for a temporary visa. 
Then, regarding the HomeBiogas systems they at first refused to let the systems, which had been labeled "composting bins" (because that is what they truly are -- liquid composting bags)  into the country because they have the words "biogas" in the name, raising unfounded fears about flammability or explosion, about material safety and confusing the customs officials who saw them as an "energy ministiry" issue rather than an "agricultural minisitry" issue.  After a long explanation the customs officials  invited  Culhane and Mohammed and Enas into the customs director's office to sit for an hour making presentations and arguments to various officials and involved a  lot of phone calls.  It turned into an impromptu educational biogas workshop where we explained all the principles and showed the manuals and websites and the work with the Clinton Global Initiative and finally they said we would need permission from the Ministry of Energy.  We argued that the units were, as shown on the bill, "liquid composters" that would help the farm, and that they were really just empty plastic bags in a frame,  but because the box had the word "Gas" on it, they said this was the jurisdiction of the Energy Ministry.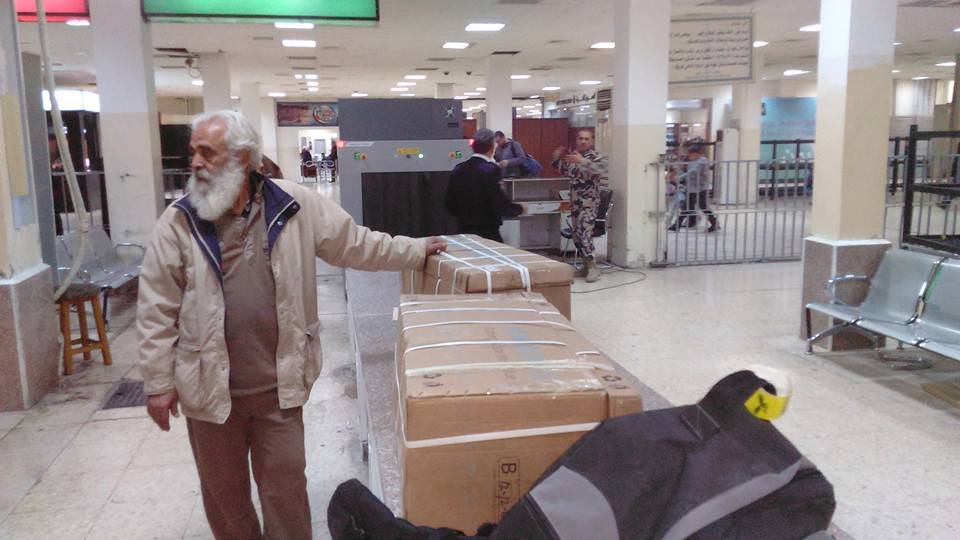 Fortunately Mohammed had friends in Amman he was able to call who knew the ministry and they hammered out an agreement that if he immediately drove all the way to Amman (about an hour and half away) and reached their office in time, they would prepare a letter and stamp it and he could then get back to the border in time and they would give them to him as a farmer, as long as Culhane signed them over to his name.   So we did that, and they locked up the boxes and we went to the farm and then took a taxi and Enas and Culhane went shopping for parts for the IBC system  in  the town of Shouna and Mohammed drove to Amman.
Once again we learn the importance of having local leaders involved who understand the project and the culture and have good reputations and are enthusiastic about the project helping lead this.  The relationship with Mohammed was built over many months.
When he returned after dark he had the HomeBiogas systems with him and told us that they took the bill HomeBiogas had prepared and calculated a tax of 140  JD (200 dollars, or 100 dollars tax each) based on a used donation price of 250 dollars each (i.e. they are taxed at about 40%.)
But they said that technically HomeBiogas SHOULD be tax exempt, and that if we could make a case to the Prime Minister's office they could get a general exemption for the future as agricultural items that benefit the people.
We called Angela Farhan Al Fayez, my USF grad student who is from the Al Fayez bedouin tribe and is well connected and she said "if the Hashemite Fund for the Badia likes them we can get the exemption in the future because we are connected with the ministries."
So that first night we gathered local people and assembled the HomeBiogas system at Mohammed's farm until midnight,  working indoors in the girl's dorm and then moving it outside and it was a great training session.
The next day we drove the other unit in Mohammed's car to Shouna and then put it on a public bus (because we were running out of money from the unexpected costs) and took the long route to Amman (about an hour and a half) . Then we put it in a taxi and drove to the hotel where we were to meet the director of the Hashemite Fund for the Badia, Dr. Raed Tabini.  He then loaded it in his car and we drove an hour and a half to the Bedouin Experimental Farm for the Hashemite Fund in Al Mafraq not far from the Zaatari camp (which they work with).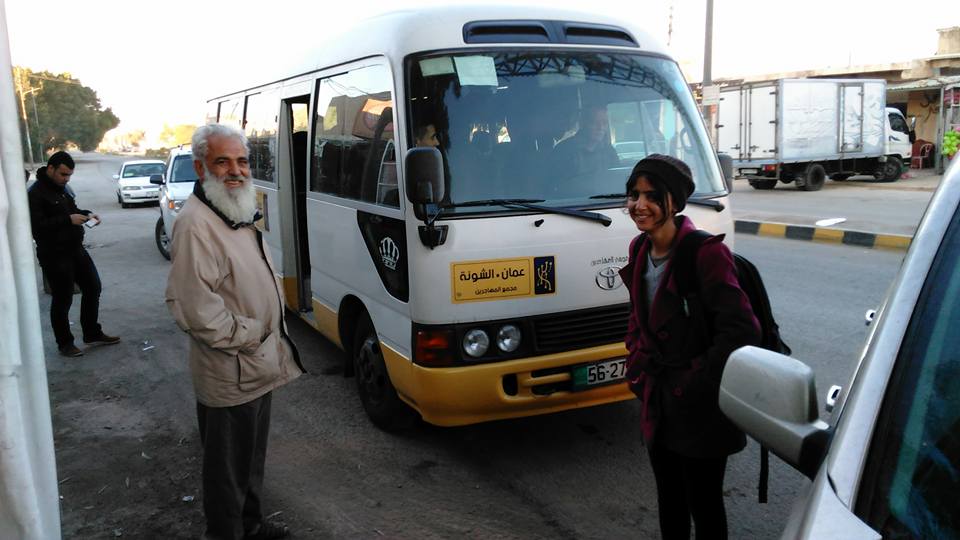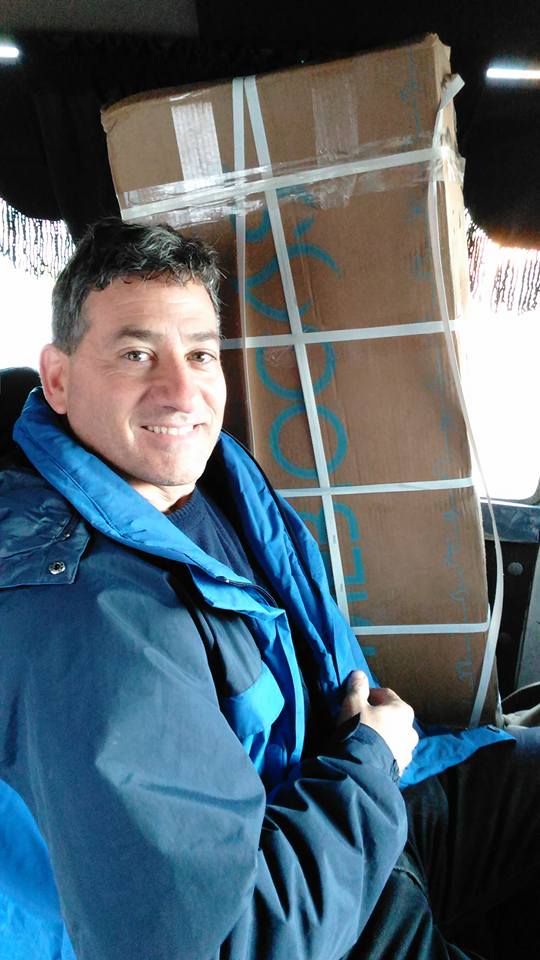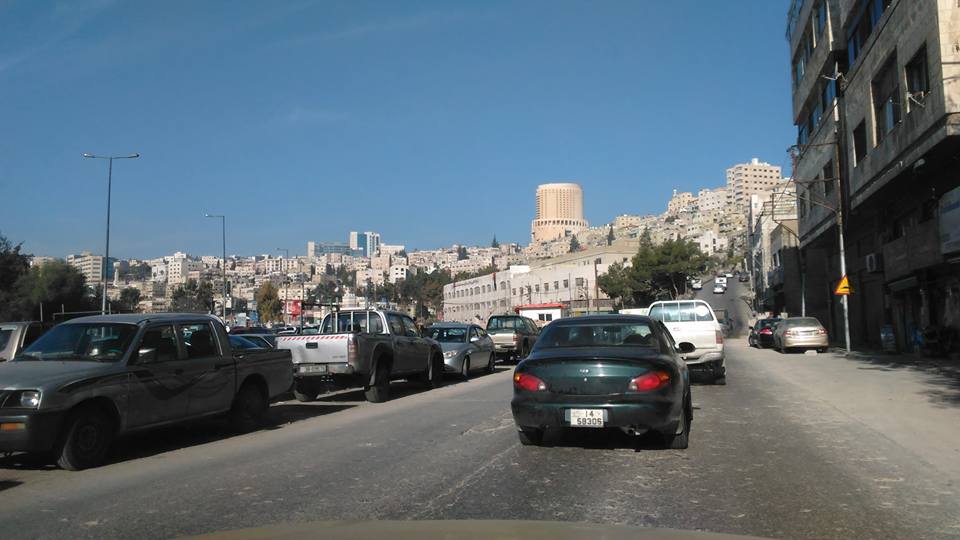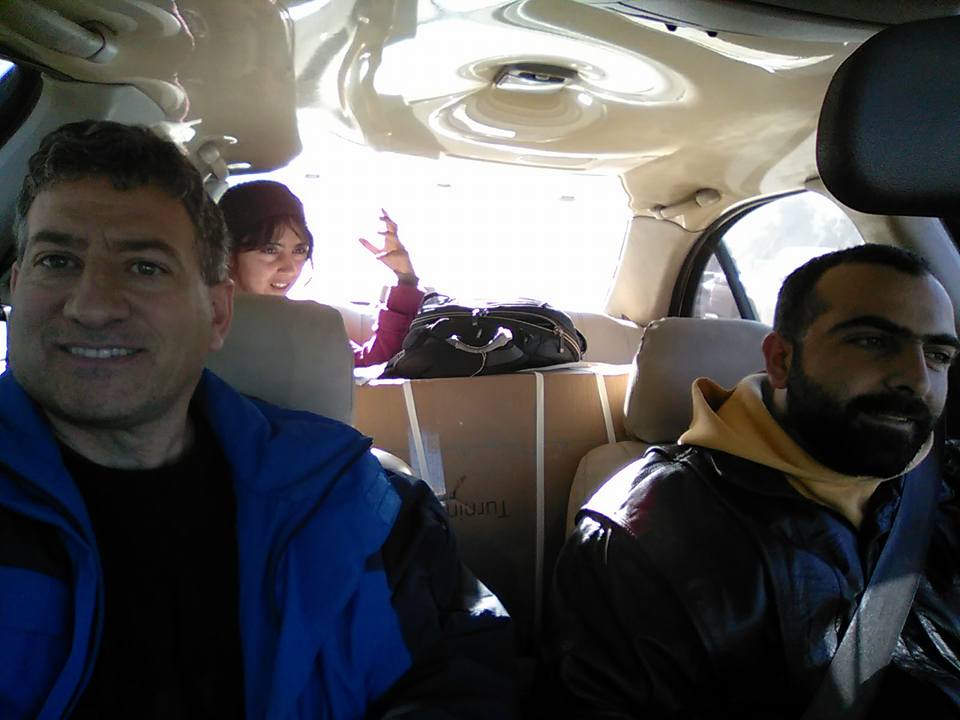 Dr. Tabini assembled a crew of about 10  of  his excellent bedouin assistants and researchers and we assembled the Home Biogas system next to the director's kitchen.   They got bags of camel manure and sand and we filled and commissioned it right then.  They were incredibly enthusiastic about the system and over lunch we did a theoretical workshop.  Dr. Raed believes we can get the tax exemption for further units and that there may be funding possibilities for more.  But of course they want to evaluate its performance. As he said to us, "You know among the Bedu, seeing is believing."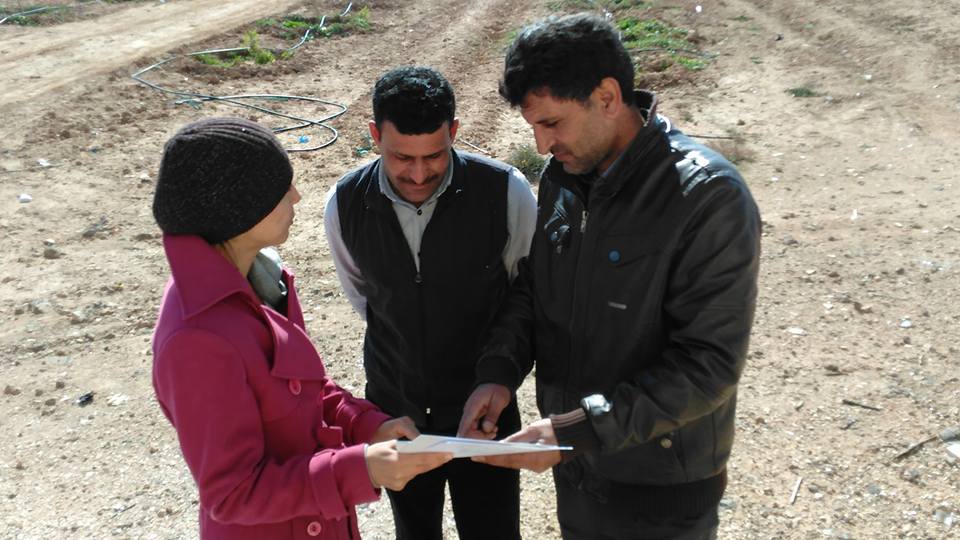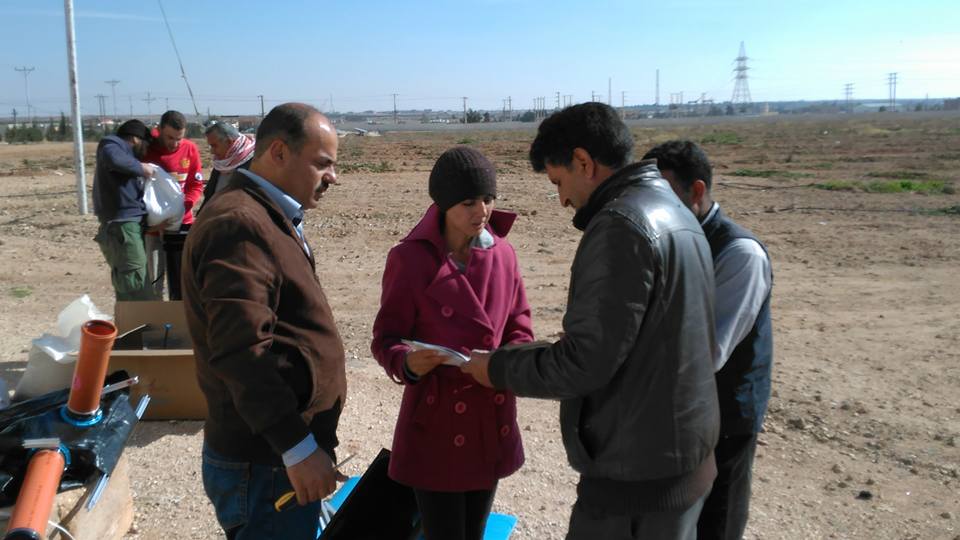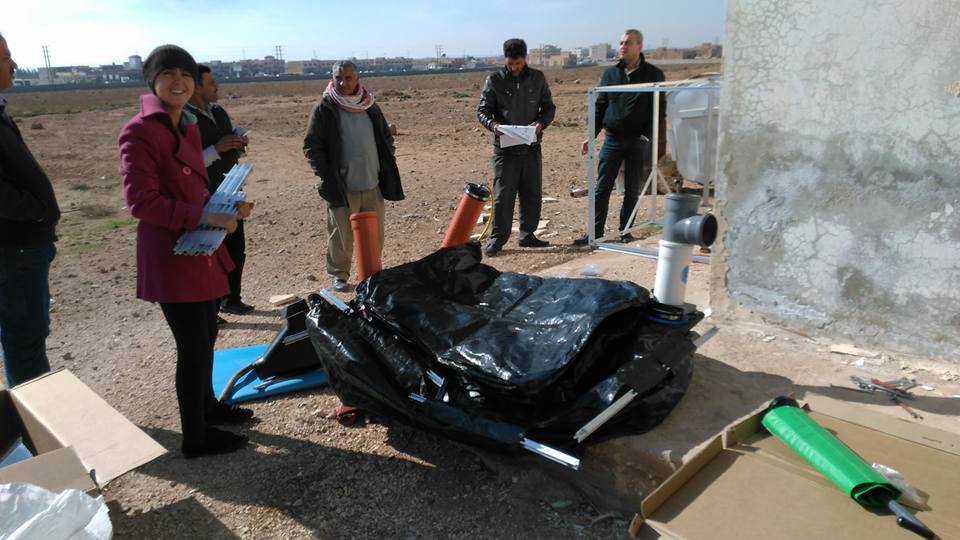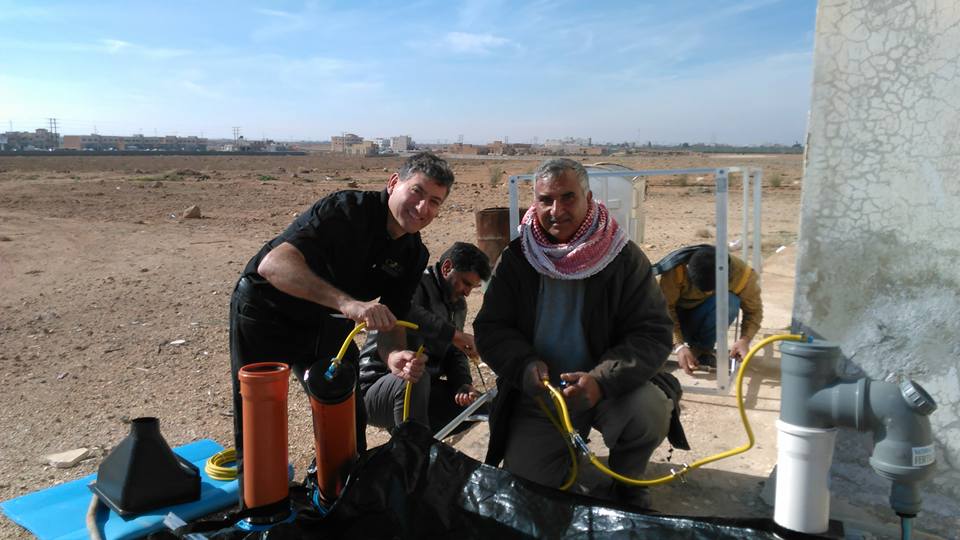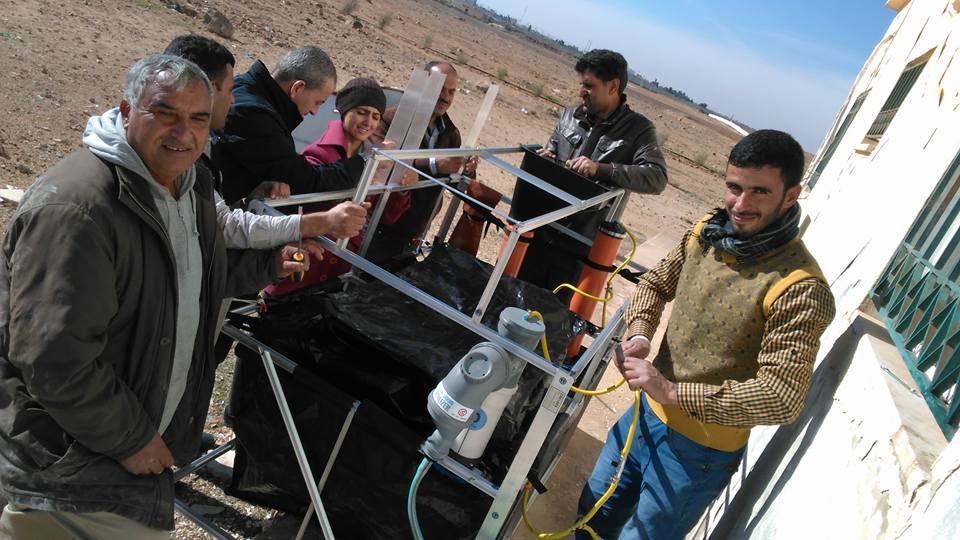 The only issue we had was that after we had  filled the digester with water and were placing the sandbags we noticed the glue of the blue ring for feeding tube came  unseated and the place where the pieces join is coming up out of the bag. We are not sure of the solution yet -- we are just hoping it doesn't burst at some point.  It is unlikely that there will be any problem as the part seems supportive rather than integral.  It seemed to be holding when we left (this is in Al Mafraq bedouin project research center in Jordan) but we will be in bad shape if it tears further since it is really difficult to get stuff into Jordan. So we wait on results.  Inevitably there are sometimes problems in manufacturing and the system is warrantied, but the sheer hassle of getting replacement stuff into Jordan  makes this worrisome.  If we had an easy mechanism to get parts in to Jordan this would be a trivial matter. Once the exemption has been made and the initiative is going, having spare parts will make this easy to deal with . For now it is a problem, making the use of hand-made systems from local materials preferable, though they are more complex and prone to failure, since they can be easily locally repaired.  It is good however to have professional systems for people to compare the hand made systems to.
My feeling now after these two experiences is that those blue rings are a vulnerability point for the commercial digesters and we should be watchful and think of ways to improve this area.  The Bedouins, seeing this problem, were worried.  We need to make a hand made system with them to give them confidence that they can continue the initiative if there is any damage to the professional one.
When we returned to Mohammed Atiyeh's farm we moved the HomeBiogas system to a sunny location near the kitchen and filled it  with manure and water and filled the sandbags.   So it should be working by Feb 20.  We also did a training and built and  placed an IBC tank next to it and filled with manure and connected it to the HomeBiogas bag so we should have plenty of gas if we do a visit -- Atiyeh's is an active date farm so they have a lot of date waste.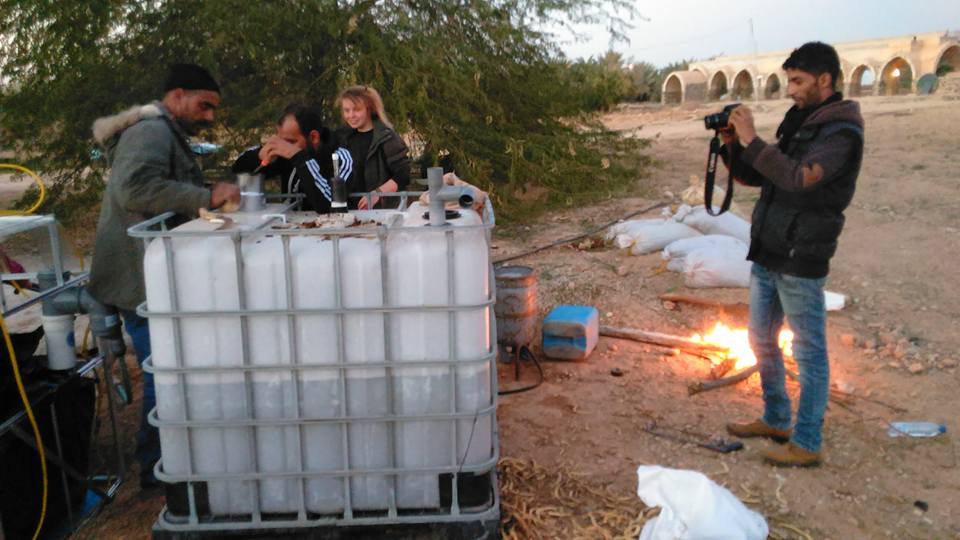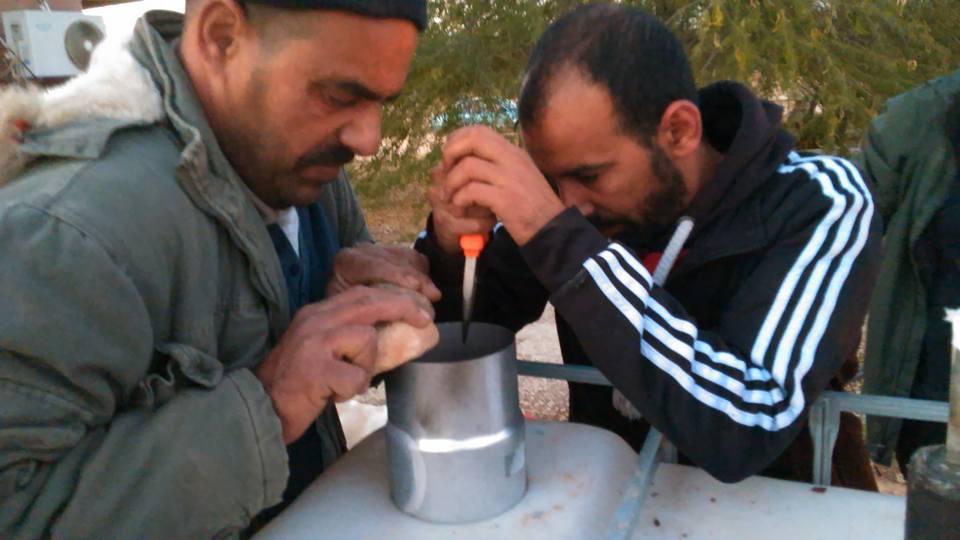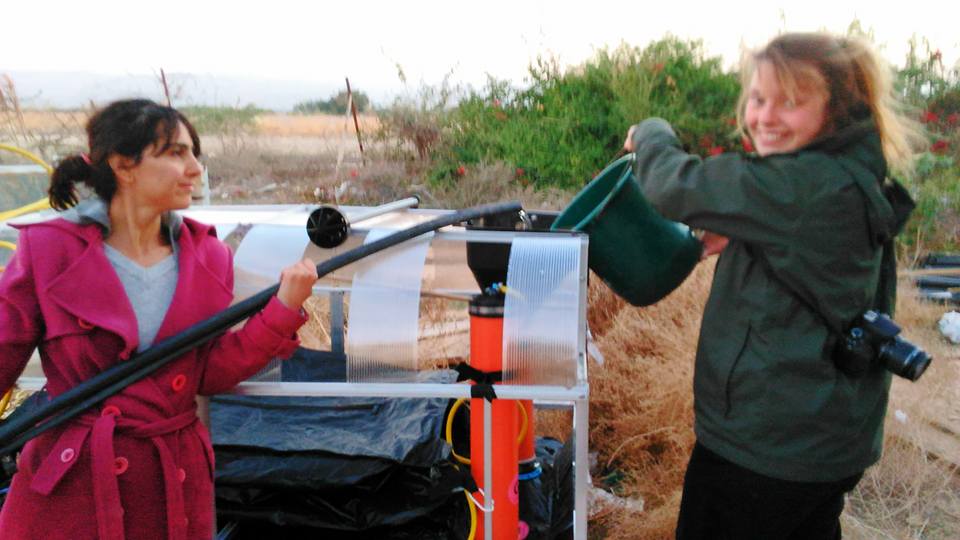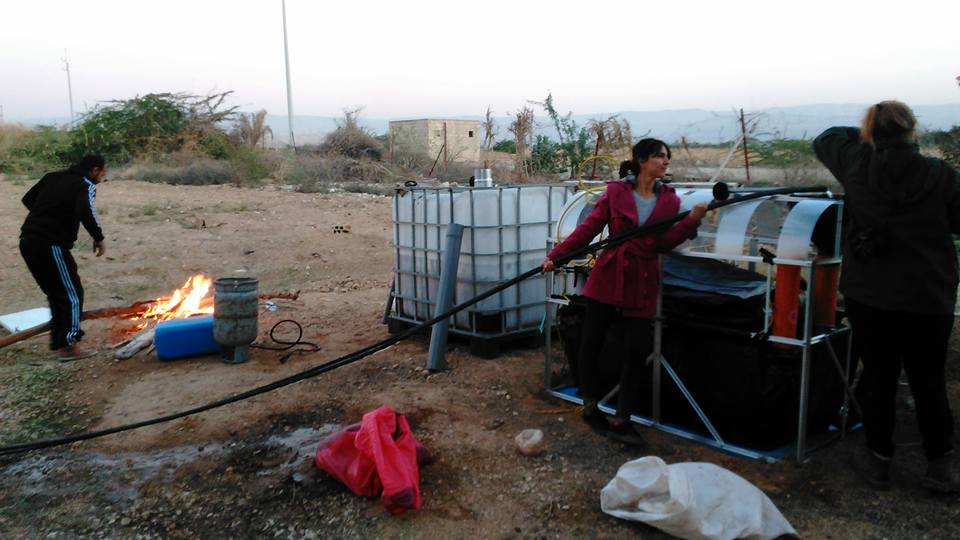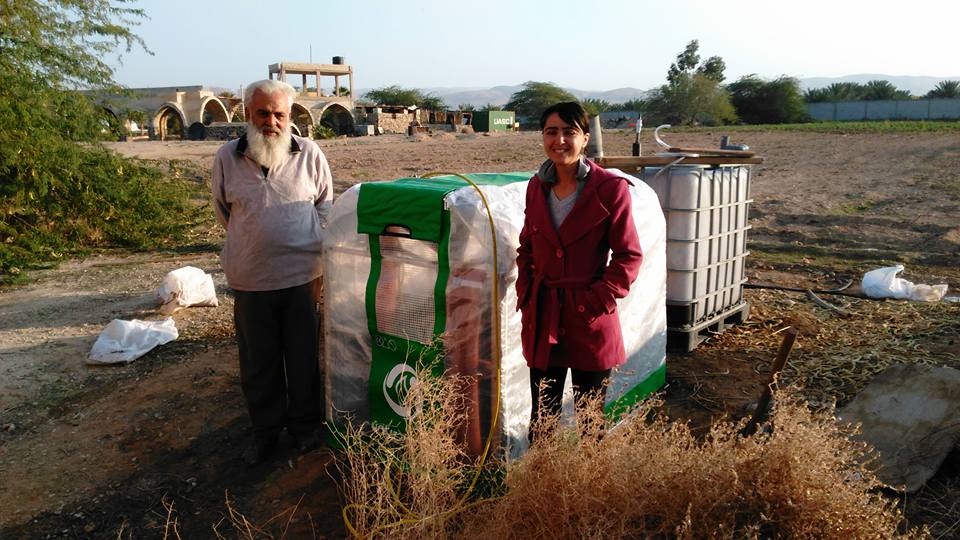 While at the Jordanian Valley of Peace  farm we met many European and Brazilian interns who stay at the farm, and many of them also have stayed and volunteered at Ecome.  It seems there is a regular movement between Ecome and Valley of Peace, and the permaculture teacher who was doing his workshop at Ecome the day we arrived (Jan Martin Bang) is a frequent visitor to Valley of Peace, to Ecome and to KIbbutz Lotan.
We spent the last day of our trip in January  with him at Ecome and did a biogas workshop and they are excited to set up their HomeBiogas system.  We gathered manure in a 200 liter system to start fermenting so it will be ready to make biogas once they have their homebiogas system in February.
The only bad part of the journey was that we found that some  Israeli border guards interrogate Westerners for crossing the Allenby Bridge with Palestinians and intimidate them.  These particular guards  have created the narrative  that volunteers in Jordan or the West Bank would no longer be allowed in Israel unless they  come  with specific  Volunteer Visas or a Work Visas (work Visas are almost impossible to get though). No more tourist visas for people working on transboundary projects  they said, claiming that when one comes "too often"  one  is no longer consdered a tourist because "you aren't here to sightsee" and that  volunteer work requires special visas, evem if volunteering on project within Israel with Israeli organizations that are beneficial to Israel.  So we need to do something about that!  This is said to be a kind of collective punishment that is used to keep Westerners from seeing how  Palestinians are treated at their  border crossings.
Hence we advise that nobody on our team cross the Allenby Bridge even though it will add hours to the trip to go via other entry points; most of the work however, can be done and is better done entering through Amman airport directly. However there are considerable advantages to teaming up with the Arava, with Ecome, with Kibbutz Lotan Green Apprentice Program and Ecovillage and with HomeBiogas and the Shimon Perez Center and US AID going forward, and they were all supportive of Culhane's presentation at the MERC/USAID conference in Jordan and would like to explore going further with Solar CITIES as they begin their own phase II of their small scale biogas education projects which are now extending into Jordan. Because of the relationship we have built between Solar CITIES and the Arava Institute and the Children of the Valley farm and Ecome, all of which now have a long-standing and ever evolving relationship working with the UN WFP and the MERC/USAID project, we know that small biogas will continue to be shared with Jordanians through this impact point.
The most promising thing right now to have more direct impact on the Zaatari refugee camp going forward  is to work with Angela Al Fayez and Dr. Raed Al Tabini and Samer Asfour and get somebody in our team back to Al Mafraq to follow up with the HomeBiogas digester there and do a Solar CITIES IBC build workshop there.  Culhane can not go this May when he is briefly at the Arava; he will train more people to work with Atiyeh's farm and Atiyeh in turn will train people to work with the crew at Al Mafraq.
When Culhane was staying with Atiyeh in February fixing one of the digesters which had gone acid by adding a hundred more kg of fresh cow manure and training new volunteers, Atiyeh and Culhane called H.E. Samer Asfour and spoke to him a couple of times . It turned out that Atiyeh knew Samer (they had met several times) so the connection was good even though there was no time for Samer to meet with any of our team.  As a result of that call Samer is aware of the role that Atiyeh's training farm plays in the CGI Initiative and the link to Al-Mafraq and Dr. Al Tabini, director of the Hashemite fund who works with Samer, has been established.
What we need most is to develop a "small biogas culture" in Jordan to build confidence in the technology. Unfamiliarity,  overfeeding issues and temperature issues are the main barriers to success right now as there simply aren't enough people in Jordan yet for the multiplier effect to occur.  The HomeBiogas system is the most reliable but still the most expensive option.  A combination of training people throughout the target areas in Solar CITIES IBC systems with a strategically placed and sufficient number of reliable professional HomeBiogas systems should be able to turn the tide.  For this we need financial support to get the right number of systems into place and trainings completed.  It will be hard for us to move forward doing it the way Culhane has so far, self-funding and trying to further the initiative by piggybacking on other (though similar) work he is doing in the region. We now need a focused and supported effort to amplify what is now on the ground.
(Estimate)
Number of Lives Affected
115+
Number of Communities Affected
4+
Number of Households Affected
6+
Number of People to Receive Training, Formal or Informal (Total)
115+
Number of People to Receive Training - Job Training
30+
Number of People to Receive Training - Female Empowerment Training
20
Number of People to Receive Training - Environmental Sustainability
115+
Number of People to Receive Training - Risk Mitigation and Disaster Preparedness
30+
Number of People to Receive Training - Students
25+
This includes:
Biogas Conference at Dickinson  (35)
Ecome Peace Village   20
Valley of Peace/Children of Peace Farm  15
Hashemite Fund Farm  15
MERC - USAID Biogas Conference  30
And any other opportunity you may have had to share.
Arava Institute of the Environment, May-June 2016
Key West Municipality Planning meeting, October 2016
Florida State Science Supervisors/STEM education conference in Orlando held by National Geographic/Cengage Learning, November 2016
Eciyes University Conference on Alternative Fuels, Kayseri Turkey December 2016
Recycle Florida Conference held in Tampa, December 2016
STEM science teacher training at Museum of Science and Industry (MOSI) in Tampa, December 2016
Arizona Department of Education STEM education conference in Phoenix held by National Geographic/Cengage Learning, January 2017
Arava Institute MASHAV program for international development, May 2017