You've heard Samuel Taylor Coleridge's "Rhyme of the Ancient Mariner", paraphrased as "Water, water everywhere, but not a drop to drink".  And you are probably aware that in most parts of the world the contamination of drinking water and other fresh water supplies has a lot to do with toilets.  Poorly designed toilets. Poorly discharged toilets. Poorly treated toilet wastes.
http://www.livescience.com/16713-7-billion-people-world-poop-problem.html
The 2011 Live Science article "With 7 Billion People, World Has a Poop Problem" stated that inadequately treated sewage,
"...kills an estimated 1.4 million children each year, according to the World Health Organization. That's one child every 20 seconds, or more than AIDS, malaria and tuberculosis combined. Despite this massive death toll, sanitation hasn't gotten the same attention as other world development goals. The United Nations, which set a goal to halve the number of people without basic sanitation by 2015, now calls that target "out of reach.""
The sad irony is that toilet wastes are actually easy to treat, and can be treated at the point of origin.
Believe me, I know.  I built a household composting toilet in my tiny urban apartment in Los Angeles back in 1999 and ran it successfully for 4 years before leaving the US to move to Egypt and Germany.
A composting toilet transforms toilet waste at home into rich organic fertilizer. The simplest design, the one that I used, is simply a paint bucket.
I learned how to make mine from "The Humanure Handbook" which I chanced upon in a used bookstore in Sonoma California while working on renewable energy projects with DiMassa Utility Consulting and Roseville Electric (this was in 1998;the entire book and plans are available free nowadays at http://humanurehandbook.com/)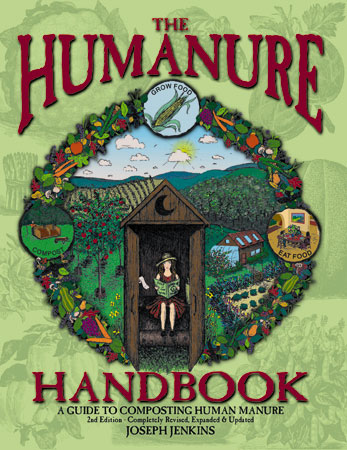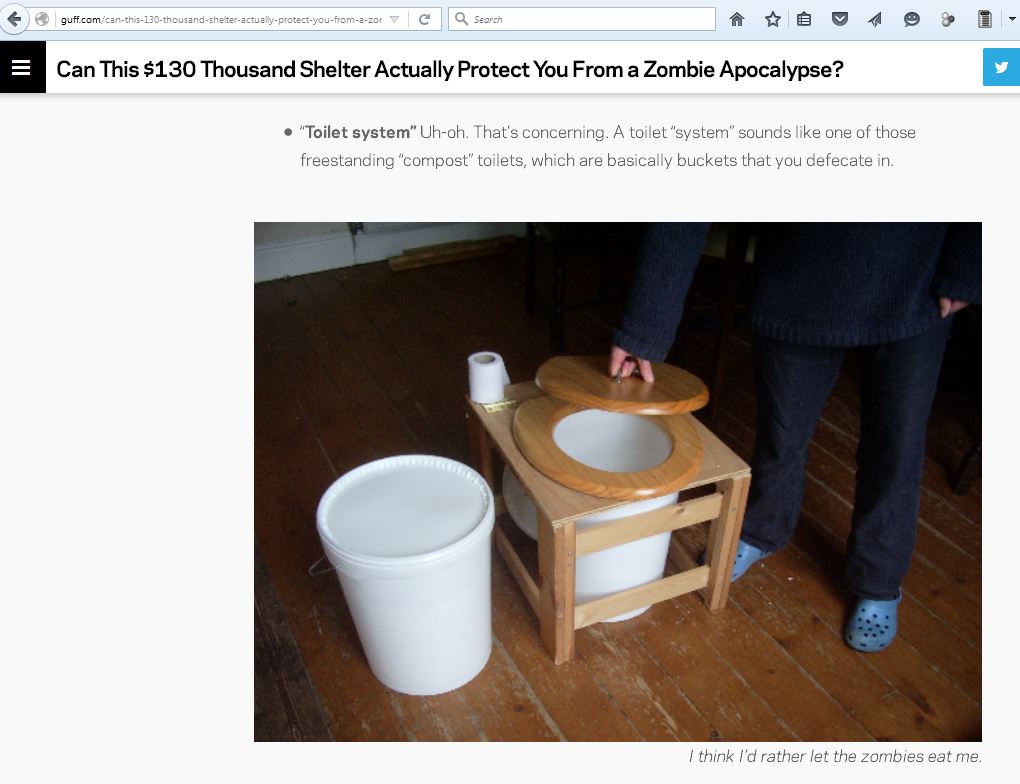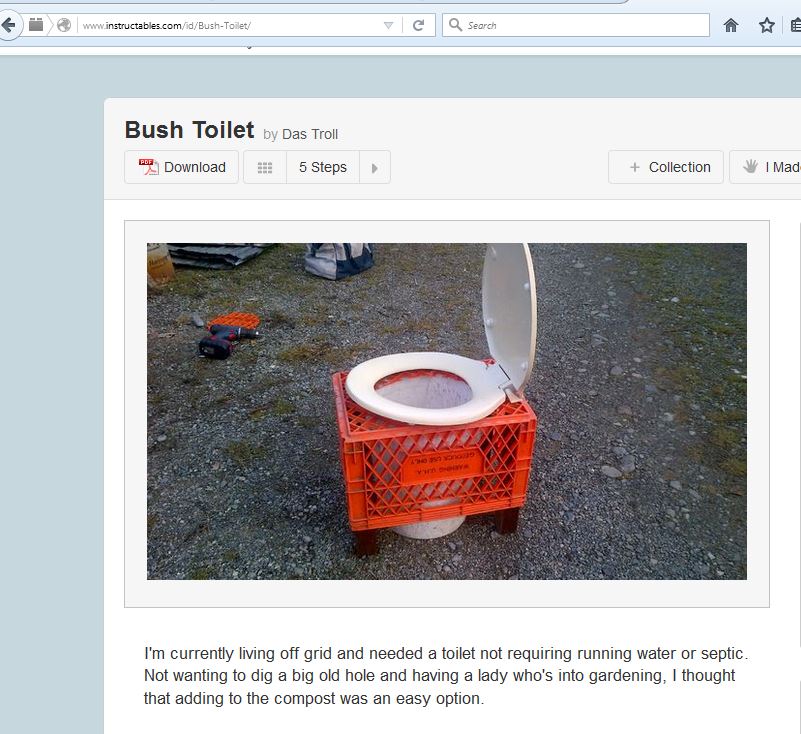 During this time I also created and used composting toilets that I used during a week long power outage in the Meskital slums of Guatemala city and during a two week stay in Quito Ecuador. 
Did you know they were that easy to build and use?
Many of them have their second bucket filled with sawdust. Some use wood ash as the cover material.  I couldn't be bothered to go to a saw mill and didn't want to burn any wood to make mine. I certainly didn't want to buy anything.  So I used weeds.  Cut flowers.  Grass clippings. Scented Geraniums, lemons grass.  So the bathroom would smell nice.
And it does.  It works really well. In the slums of Guatemala I would spend a few minutes filling the bucket with weeds I gathered from the alleys using a pair of scissors. In LA I mixed shredded weeds with shredded bills.
I've continued the tradition off and on in my apartment in New York, and of course used numerous "professional" professional compost toilets around the world -- you can find them at the Rockefeller State Park and out at the lodges in the Channel Islands in California and most other state parks. I've used them in luxury rainforest lodges in Brunei and scuba diving resorts in Belize, and lived with them in Eco-villages from Germany to Portugal across Europe.  Basically they are the preferred go to solution for human waste treatment wherever human beings are serious about not contaminating the soil or our water supplies.
Did you know there were professional composting toilets, sold on the market?
For almost a year I used the SunMar composting toilet in my apartment in L.A. after my years with the bucket system. The village donated it to me to be the gunea pig.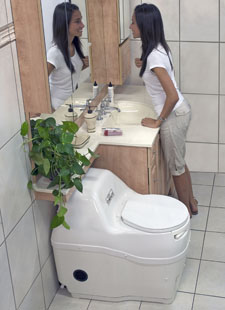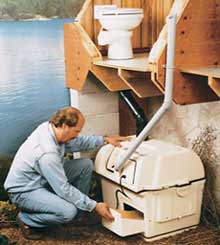 In these units you simply pull out a tray of finished compost soil after a few week.
At Solar CITIES we have the privilege of working with our dear friend and colleague Christopher Lindstrom, whose father developed the Swedish Clivus Multrum Composting toilet which his mother, Abby Rockefeller, made famous in the US some 40 years ago.  Chris has been developing low cost effective composting toilets out of IBC tanks for decades -- the same IBC tanks that Solar CITIES has been using to create the movement for low cost DIY biodigesters.  Nowadays we are working with Chris to integrate biodigestion of food scraps and toilet wastes using a hybridized IBC digester/composter.
In the video below, Chris takes us on a tour of the Rockefeller home at Harvard in Cambridge Massachusetts where, in an elegant urban  luxury setting, the Clivus Multrum has been in use for dozens of years.
https://www.youtube.com/watch?v=bCJJtMgWYkk
Yes, composting toilets can be quite elegant.  In some bathrooms, like this one at the Beacon Institute on the Hudson River you would never know you were even using one:
https://www.youtube.com/watch?v=Y4XBKm-8tmk
As an avid compost toilet builder and user for so many decades, I can attest to their virtues.  The fact that they are not well understood is tragic.  In emergencies like hurricanes and earthquakes or civil wars or other crises they can save lives, preventing outbreaks of cholera and typhoid and dysentary and other diseases.  They are so simple.
And it isn't as though they are new.  In Nepal I visited villages where they have been using compost toilets for thousands of years, not only to keep their rivers from being contaminated, but to heat their houses.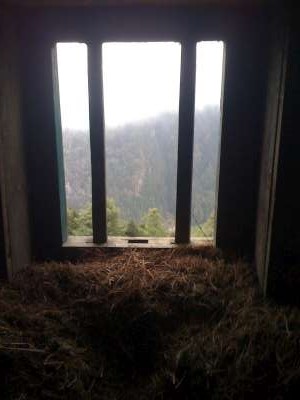 Meanwhile, along the Hinku Valley trail, just a few days hike south, nobody had ever heard of compost toilets and they were contaminating their river and living with the stink.
https://www.youtube.com/watch?v=M17hUMWfHls
It is so strange to find that people have all the solutions at hand and fail to see the connection, fail to see how easy it is to put all the pieces together.
Stranger still is that the Sherpa people from the villages that have the tradition of compost toilets and compost heating frequently travel from the Khumbu valley to the Hinku valley, but somehow never seem to get around to talking about toilets or sharing the successes they have had.  Some cultural taboo seems to prevent most of humanity from doing the same.
And that is why we are here today, trying to share the simple solutions we have for avoiding disease and death, solutions that have always been there.
In my own work, I have gone way beyond composting toilets.  They are great for emergencies and very effective, but it takes weeks to months to get the compost for fertilizer, which ends up nitrogen poor, and apart from a little heat (which is minimal if you are a small family and don't have tourists trekking by using your toilets all the time) you get almost none of the energy value.
A far smarter solution, in my opinion, is the biodigester/biogas toilet, which I started pioneering in my own bathroom in Germany 5 years ago, using my son's diaper wastes.  When it came time to change his diapers his mother would ask, "Okay, who wants to change Kilian's diaper?" I would shout "me... I'll do it!" and carry him up to my experimental in bathroom baby poop digester, which also took his food wastes... the porridge he didn't eat (in my house we never got upset if the kids didn't eat everything on their plate as that left food for our "domestic dragon", our  fire breathing biodigester.
https://www.youtube.com/watch?v=cVFHtLAv30g
We've built bigger biodigesters that take all the food waste, grey water from showers, baths and dishwashers and all the toilets and in fact just finished a new one in the back of the house at the Bioregional Living Center belonging to Permaculture Instructors Andrew Faust and Adriana Magana and their daughter June.  They also have a compost toilet outside, but can now flush the toilet indoors all year round and know that 100% of their waste is turned into fuel and fertilizer.  In fact, a biodigester and a septic tank are the same thing, the only difference being that we designed our digester to allow us to capture the biomethane that septic tanks simply release into the soil and atmosphere, and we insulate ours and feed it food waste and warm soapy shower water  to keep it active and warm.  Any septic system could be turned into a biogas system, and it is crazy that most people don't do it yet. But they will.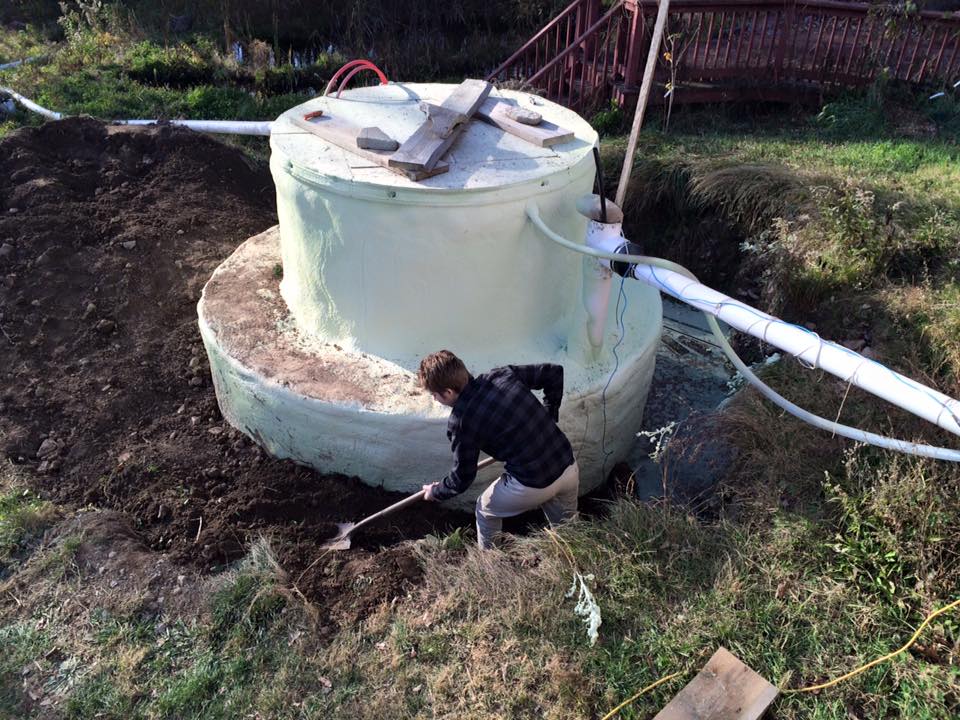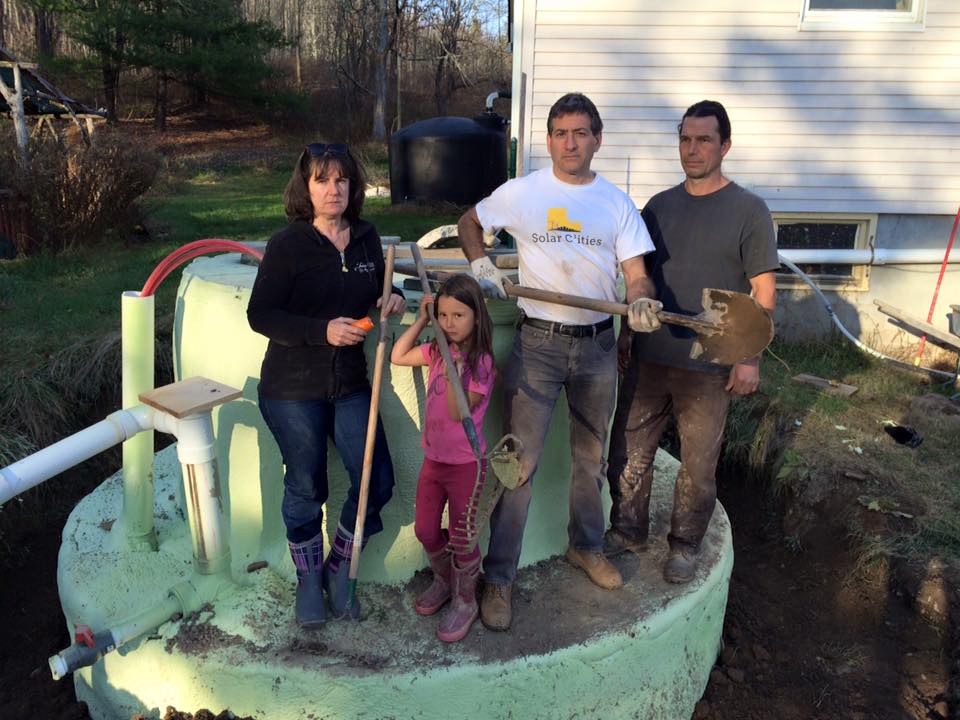 In fact the ease and logic and economic sense that food-and-toilet-waste-to-fuel-and-fertilizer systems make is so compelling that we feel it is simply a matter of getting the word out and offering people the "social proof' of demonstrations.  After that you can "Consider it Done".